Tap into the relaxed rhythm of
Ireland's Hidden
Heartlands
With its rich mix of beautiful landscapes, rugged hills, soft bogs, peaceful lakes and vibrant townscapes, welcome to one of the most surprising and unspoilt parts of Ireland.
Following your visit to us here at Moon River, there is so much more for you to explore.
The water offers leisurely boat trips, water sports and great fishing, while numerous walks, cycle trails and pony trekking allow you to take in the views, or explore the rural heartlands and small villages in this quiet, relaxing part of the country.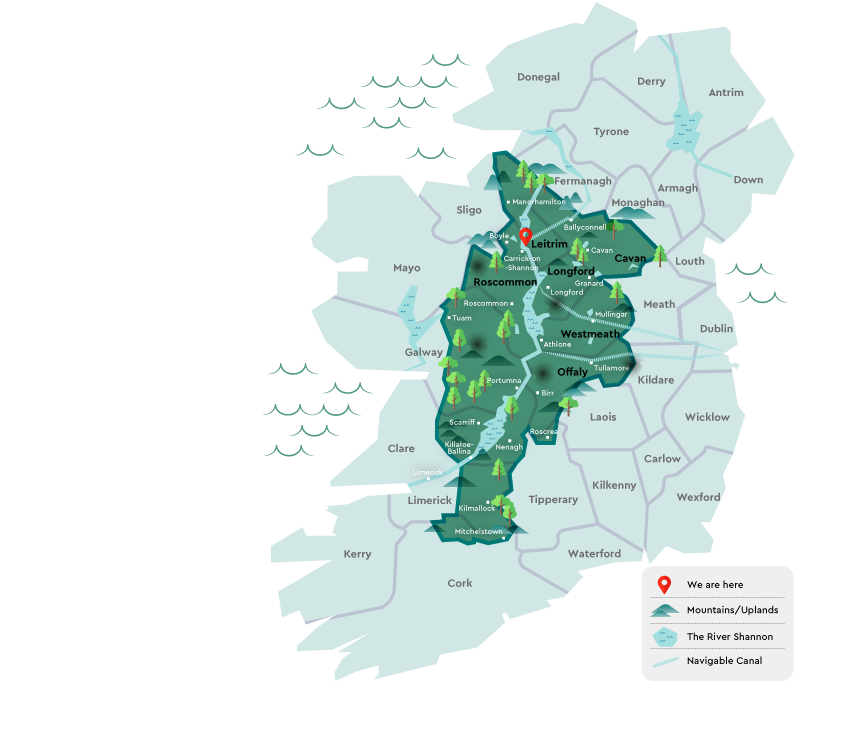 Find an Experience to Suit You
Use our map to discover what each region has to offer.
Cultural Heritage
Activities
Walks & Trails
Cultural Heritage
1

Shed Distillery
The Shed Distillery is the Home of Drumshanbo Gunpowder Irish Gin. The Curious Journey Tour is available from 10th September 2020. https://www.thesheddistillery.com/

2

Arigna Mining
Arigna Mining Experience was developed to preserve the energy heritage of the Arigna Valley and to ensure that Arigna maintains its link with Energy themes: Past, Present & Future. This Energy Centre provides visitors with a unique insight into what coal mining life was like in the Arigna Valley, since its beginning in the 1700's until closure in 1990. Arigna Mining Experience

3

Sliabh an Iarainn Visitor Centre
The Sliabh an Iarainn Visitor Centre, located on Acres Lake, Drumshanbo, provides audio-visual displays and interactive information on the Sliabh an Iarainn, Arigna and north Leitrim areas. There are features on both the landscape and the geology of Leitrim with special emphasis on the industrial and musical heritage of this area. https://leitrimtourism.com/products/sliabh-an-iarainn-visitors-centre/

4

St Georges Heritage and Visitors Centre
St Georges Heritage and Visitors Centre offers tours of the Attic Memorial in Carrick on Shannon. https://st-georges-heritage-visitor-centre.business.site/?utm_source=gmb&utm_medium=referral
Activities
Walks & Trails
With so much to see and do in Ireland's Hidden HEartlands why not extend your trip, and stay in one of the many hotels, guesthouses, or B&Bs in the area.
Feeling thirsty or peckish? Whether you're a consummate carnivore or a vegan, you'll find plenty of foodie delights in Ireland's Hidden Heartlands. Check out our list of recommended places for your visit.
Uncover Carrick-On-Shannon
Are you looking for a fun day out for all the family? Do you want to experience nature and jump into history down the River Shannon? Then look no further than Moon River cruises.
We're the only luxury passenger cruiser in Carrick-On-Shannon and our public cruises run every week.
We've been giving tours and trips to both locals and tourists for 25 years and we love to provide our passengers with a one-of-a-kind experience.
Your journey is just beginning
Discover more of what Ireland's Hidden Heartlands has to offer.